Y4 Design Technology Workshops: WOW! (01/03/17)
Year 4 have had a very busy couple of days as part of their spring term Design Technology workshop.  They have learned valuable skills and used materials and resources to create a moving Punch & Judy themed toy!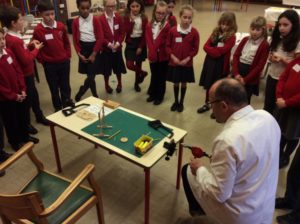 Modelled learning time meant children could see what they needed to do.
Mr. Hindhaugh Senior supported the sessions and his previous experience as a Middle School Design Technology teacher certainly came in useful! Mrs. Maunder was also on hand to help – but for the most part, children solved their own problems and asked useful questions!
A number of parents and family members joined us on the second day to support and learn with their children – thank you to everyone who came – we hope you enjoyed the session!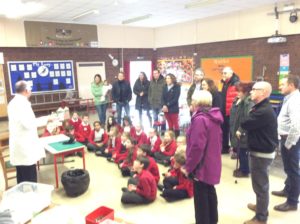 Family members learning alongside the class
The project has fulfilled a number of key DT objectives for Year 4 children including:
Persevering and adapting work when original ideas do not work
Measure accurately
Use ideas from other people
Evaluate and suggest improvements for my designs
We had so much fun – and look what we achieved!