Year 3 and 4 Faith Trail trip to Derby (07/02/17)
Y3 and 4 had a brilliant time visiting Derby and different places of worship.  We were fascinated by the statues of the Hindu deities in the Mandir, we learned about how Muslims worship in the Mosque and we really enjoyed learning about the 5 K's in the Sikh Gurdwara.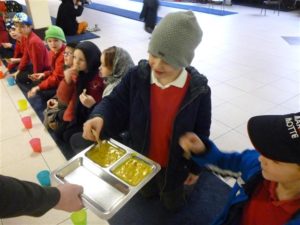 The children were so interested in the similarities and differences between all the different places of worship and have followed up the visit with some excellent work in class.  I was very impressed with their enthusiasm and brilliant listening on the trip.  Thank you to all the people who welcomed us and talked to us on the trip and thank you for your generosity.  Thank you also to our parents for helping fund this great trip and to those who helped on the day.  We had a rich, multi-cultural experience to be remembered.