Reception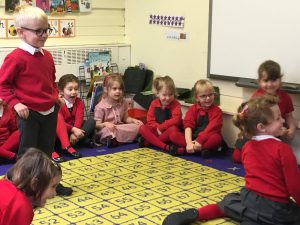 If you are looking for the Reception Learning Zone please CLICK HERE!
Welcome to Reception! I'm Mrs Read. On this page, you will find all the exciting learning we have planned this year. You will also find the statutory documents that support our planning and delivery and at the bottom of the page are some links to websites and games we like to use in Reception.
The Reception year is all about developing a love of learning and confidence in ourselves and our abilities. We love to have fun and play and dance!
Reception planning overviews
Autumn 1 topic- Once upon a time
Autumn 2 topic- An Extraordinary Journey
Spring 1 topic- A Polar Adventure
Spring 2 Topic – Calling All Superheroes
Summer 1 Topic- The Incredible Shrinking Machine
Summer 2 Topic- Imagination Land
EYFS Communication, Language and Literacy Overview
Our Maths scheme of work is developed by White Rose https://whiterosemaths.com/reception-sol/ which aims to teach the required knowledge and skills needed to achieve the Maths Early Learning Goals as detailed in the EYFS framework 2021. (see below)
EYFS statutory documents
The EYFS framework 2021 is the most recent Early Years framework and we have adapted our curriculum and assessment methods to fit in with the new framework.
Information for parents- Reception Baseline Assessment Read this document to find out about the Reception Baseline Assessment (Introduced Sept 2021)
Here are some phonics games that we enjoy playing at school:
Phonics bloom (especially fishy phonics)
and Teach your monster to read