Reception Class Learning zone
Welcome to Reception Class' learning zone!
20/9/21
This week, our learning is centred around the book 'Kippers Birthday'. Pat, our class polar bear is turning 5 this week so we'd better get ready for his party! For those who are learning at home this week, here are some challenges for you to have a go at. Let me know how you get on!
Reception home learning challenges week beginning 20.9.21
13/9/21
This week in school, we are learning all about the Gruffalo! We have also started learning some of our songs for our Harvest celebration. For those children working at home this week, here are some challenges for you to have a go at! I'd love to see what you get up to so you can send me messages on Class Dojo or you can bring it into school when you come back 🙂
Reception home learning challenges wk beg 13/9/21
6/9/21
Welcome to the new year! We have really enjoyed getting to know all the new children. They have settled in so well and we love how proud they are to show us what they know and can do.
19/3/21
We have had a wonderful week in Reception. We have been learning about the life cycle of a chick and were able to see 2 real life chicks hatch from their eggs right in front of our eyes!  We made them birthday cards to welcome them to the world. Here are some pictures of them, we think they are very cute!
12/3/21
After all our hard work learning about Antarctica, we were finally back in school all together to take Hiku back home. We spent a wonderful afternoon flying to South America with Richard Clarke airways, our very own Captain Hanson did a marvellous job of getting us there safely. From there, we chartered a ship to get us across to Antarctica where we set out on an adventure to return Hiku the penguin back to his family and plant our flags in the South Pole. We made it in time for a hot chocolate and to try our sledging biscuits that we made especially for our trip. It was an utterly joyful afternoon 🙂

Lockdown remote learning 
5/3/21
We've made it to the last day of remote learning! You have all done such a tremendous job. I want to say thankyou  from the bottom of my heart for everything you have done at home and for sharing all your learning with me, I have loved seeing everything you have been doing and it has made me feel so proud of you all. Parents- you have done an amazing job at keeping momentum going and I hope you have enjoyed seeing what your children get up to in Reception.
See you all on Monday!

26/2/21
We have started back from half term learning all about dinosaurs! This week, we have read the book 'The dinosaur who pooped the past', a funny book about needing to escape the past from an erupting volcano. We have been scientists this week, creating an erupting volcano and taking part in the whole school zipline challenge.
Our wow wall this week is our GANAS projects! The project gallery has been added to Google Classrooms so if you haven't seen it yet, head over there and take a look! Thankyou for your continuing support, one more week and we can all be reunited, I can't wait!
Reception's GANAS share Feb 2021
5/1/21
We have had a special surprise. On Tuesday, a package arrived for us in Reception. Inside was a little penguin called Hiku who needs help to get home! We are now on a mission to return him home to his family. But first… where does he live?
Literacy, phonics and maths videos are being posted on ClassDojo daily. Keep checking and send me updates on how you are getting on, I'd love to see them 🙂
12/2/21
We have made it to half term! The children have all learnt so much about our polar adventure topic. When everyone is back in school, we will be taking poor Hiku home. Well done everyone, I hope you all have a relaxing break.
5/2/21
We have had such a busy week this week! The children at home and at school have all been working really hard and I have loved seeing all the photos and videos that you have sent me. Well done to all the families for another week of remote learning, you're doing an amazing job!
29/1/21
What an amazing week we have had in Reception! We have been authors and illustrators, creating our own polar adventure stories (as well as lots of other exciting learning too). I am so proud of how the children have been getting on at home and at school. Thankyou to all the parents and families for supporting the children in their learning.


22/1/21 
We have had a fantastic week in Reception learning about the different animals that live near the north and South Pole. I am so incredibly proud of all the children and am really grateful to their parents for supporting them  you are all doing an amazing job. The children in school are working really hard as well.

15/1/21
Ladies and Gentlemen… our amazing Reception class!
Well done for all your hard work this week, I have loved seeing the amazing learning going on at home. Thankyou for keeping me updated and enjoy your weekend 🙂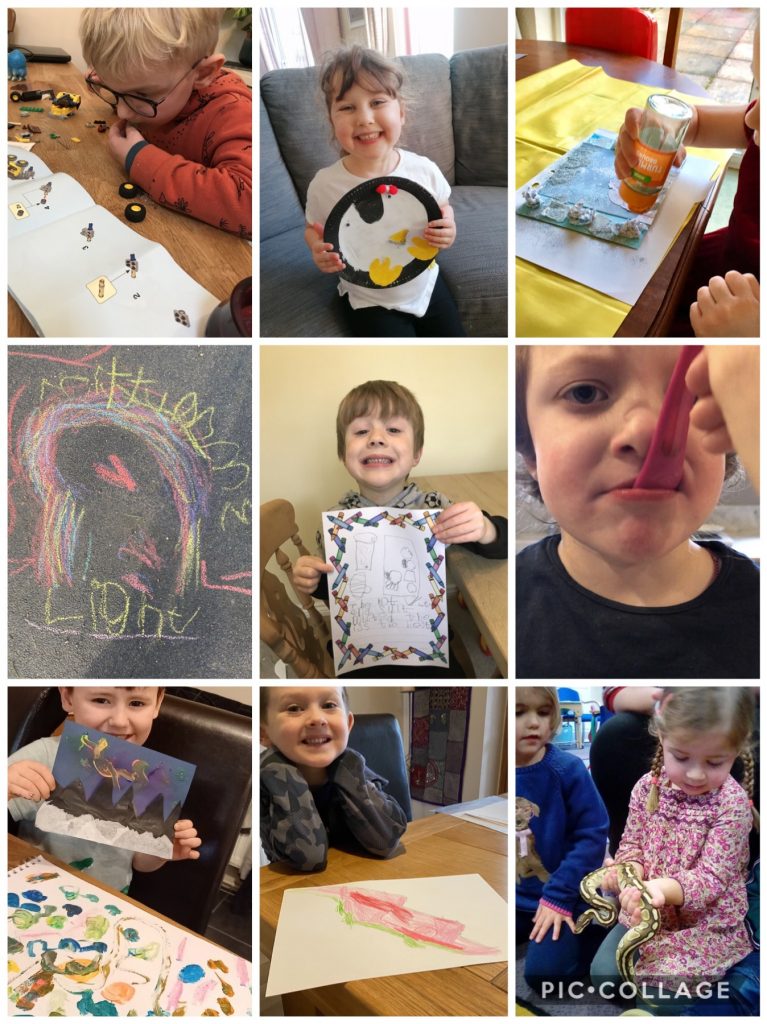 11/1/21
I have started compiling a list of TV shows which complement our Polar Adventure Topic. Let me know if you know of any more!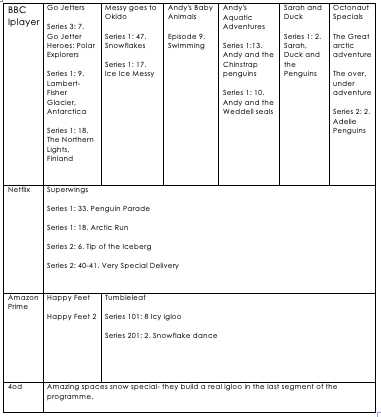 8/1/21
The children have made me so proud this week, the children at home have taken on their home learning with enthusiasm and have been showing their family how clever they are! The children at school have come back from the holidays ready to learn and with great confidence.
Well done to all the families who have joined in with learning, here is our first Wow Wall of 2021!
Spring 1 is ganas time!
During spring 1 in Reception, we are embarking on a Polar Adventure to return Hiku the penguin back to his home in Antarctica, learning lots about the Poles on the way.
Your home learning challenge is below. Aim to complete 4-5 activities over the half term and bring them together into school on Monday 8th February for our ganas day celebration at the end of the week.
Usually, we would invite parents to come in and view the wonderful projects produced by the school which unfortunately, we won't be able to do this year but will be working out another way to share their projects instead.
The activities on the home learning challenge sheet are suggestions, if you have some other amazing ideas, feel free to do those instead. You know your children so follow their interests and allow them to display their ideas in ways that interest them. Every child in school will have something to display on ganas day so I strongly urge you to take part, it can be something the children have done on their own or something you have created as a family, everything goes and everything is valued equally.
I am looking forward to seeing what you choose to do!
Harvest performance
We have been working hard learning Autumn poems this half term, here's our little Harvest performance for you all!
Parent Workshop
At the beginning of the Reception year, we usually hold a parent workshop to explain what happens in Reception. I have attached the presentation for you to have a read through.
Reception parent workshop online
I hope this answers a few of your questions but any more questions, please ask 🙂