Year 1
(Updated 30th March, 2020)
Dear Year One,
What a strange week it has been not seeing you all each day! I have missed you! I hope you all enjoyed the lovely sunshine last week. I have been so pleased to receive your e-mails of all of the exciting learning you have been doing at home! You make me so proud – please keep it up!
Don't forget to practise on Numbots. I can see who has been getting faster at their maths at home!
Keep being wonderful and sending me updates of what you're up to. Archie likes looking at them too! Have a good week.
Don't forget – it's more important than ever to keep those hands clean and I'll see you soon.
Love Miss Cooper x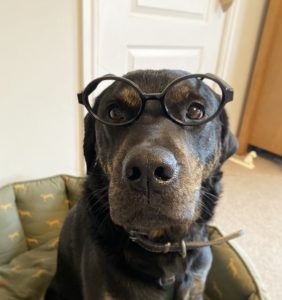 Archie is in teacher mode!
Email: year1@richardclarke.staffs.sch.uk
'Meerkat Madness' topic work
We have loved learning all about meerkats! Here are some project ideas for you! I can't wait to see how many you can complete!
NEW!
For all of those animal lovers, check out these resources at Chester Zoo.
Phonics
'Phonics Play' is a great website which has games which relate to the phases in. We are working within Phase 5 in class. However, we continually re-visit the previously taught sounds, especially the alternative sounds to phase 5 within phase 3 and the blends in phase 4. You can access this site for free during this difficult time.
Username: march20 (all lower case)
Password: home (all lower case)
Handwriting
Have a look at the 'Write Repeat' website. It reminds your children how to form the cursive letters.
Writing 
In Year One we have been looking at making our sentences even more exciting!
We have been:
Joining two clauses (ideas) using conjunctions (joining words) such as and, because.
Trying to improve sentences by adding interesting adjectives. For example:
The meerkat lived in a desert. >The golden brown meerkat lived in the baking hot desert.
Adding exclamation marks for something which is shocking, exciting or scary!
Writing questions using question words such as who, what, where, when, how and using a question mark in the right place.
With all of these key Year One objectives in mind, please can I point you in the direction of the Pobble 365 website. This site shares an amazing new picture every day! On here it gives story starter suggestions, gives you the chance to fix 'poorly' sentences and make them more exciting, choose the correct punctuation and other many fun ideas.  This will give your children to write to their ability in applying all of the above key skills. Year One is about repeating these opportunities so that children can gain confidence as writers and get the chance to embed these skills when they further develop their writing as they continue to learn.
I have compiled a help sheet for parents with some more guidance of how you can get the most out of using Pobble. Please click here:
Website Pobble Guidance for Parents
NEW: David Walliams is releasing a free children's audio story each day for the next month on his website. You can catch up on previous stories he has read. It also has a section which encourages children to be the illustrator in the style of Tony Ross. There are activities to go with the stories too!
Maths
NEW:  In school, we follow the White Rose maths scheme. Here is a link to new resources they have published especially for families in these challenging times. There are videos, activities and even the answers! Have fun!
https://whiterosemaths.com/homelearning/year-1/
NEW:  Carol Vorderman, maths genuis, has her own website 'The Maths Factor'. This is usually a paid subscription, but she has made the resource free during this period.
We would encourage you to take full advantage of the Numbots subscription which was sent home during March. This helps the children to practise their mental maths skills such as their number facts, number bonds etc. (Please e-mail if you have misplaced your child's username and password).
Additionally, the website IXL has over 233 games for Year One children. You can pay to be a member, but you're allowed to play a game daily for free.
We have been working on counting in 2s. We are looking at showing these in arrays (organised patterns) to be able to count them clearly. For example, 3 lots of 2 would be 2s in columns of 2, 3 times.
Keeping active!
Premier League Stars
Strictly star, Oti has launched an online dance session for all ages between 11.30 and 12 daily on Facebook.
The BBC Super Movers website has great interactive P.E sessions on. There are also links with videoes to KS1 English, Maths, Personal, Social and Health Education. A great and free resource!
https://www.bbc.co.uk/teach/supermovers
Joe Wicks, fitness guru is running P.E. sessions live on his Youtube channel at 9am Monday-Friday for half an hour each day. These are a great way to start the day positively and keep our mind and bodies healthy.  You don't have to do the workout at 9 – you can do it at another time – just search by the date. Enjoy!
Other suggestions:
The UK-based website Twinkl is offering a totally free service to families during these uncertain times. On the website you can find all areas of the curriculum covered including phonics worksheets and games, reading comprehension activities, maths work and the other subjects too. It is valuable and a great way for children to re-visit concepts that they have already learned so far.
www.twinkl.co.uk/offer  The code UKTWINKLHELPS will ensure you are able to access this. (Please note the spelling of Twinkl has no E).
Whilst isolation is a priority, Muddy Puddle Teacher are offering a 30 day free subscription to their resources which are focus on the education of the whole child but in an engaging and outdoor way.
Other free apps/websites:
Bee Bot App for computing,
Numberblocks (numbers 1-20 using many skills – great for practise of key areas taught so far),
Explorify for science,
Prodigy Maths,
Phonics Bloom,
Alphablocks,
Teach Handwriting,
Vooks – storyboooks bought to life,
And for those calmer moments:
Go Noodle (found on YouTube),
Cosmic
Yoga (found on YouTube).
For those who are keen to construct…
Year 1 Autumn 1 Topic – What makes me me?
Year 1 Autumn 2 Topic Grannys Toys
Year 1 Spring 1 Topic – Houses and Homes
Year 1 Spring 2 Topic – Marvellous Meerkats
Year 1 Summer 1 Topic – Down in the Woods
Year 1 Summer 2 Topic – At the Seaside