Year 3

Welcome to Year Three!
Hi everyone! Miss Wain here, below are some activities to support learning at home, keep an eye on this page as I will be adding different activities regularly if needed. If you have any questions or queries then please email me at:  year3@richardclarke.staffs.sch.uk
It has been a really strange week in school without my wonderful class, I miss you all! It is lovely to see what you have been up to at home, and thank you to those children and parents who have been sending me updates, please keep the emails coming! I really do love seeing what you are all up to!
Stay safe,
Miss Wain 🙂
UPDATE
Miss Wain's update- 3/4/2020
Hello Year 3, I have added some more learning below to keep you busy! Check out the English update further down this page, I am challenging my class to write an awesome, imaginative story inspired by The Tin Forest book that we have been looking at in class. Any writing that I get emailed will get added to the wall of amazingness below. Get writing guys!
I have also added some science learning below all about the parts of a plant and some history learning all about the Ancient Greeks where you can learn about Pandora's Box, create your own Greek monster and learn about sirens. Have a go and send me what you have been up to! Any pictures of your fantastic learning will be added to the page!
In the PE section of the page is also a link to the Primary Premier League Stars website where you will find free resources for English and Maths, check them out below.
We have reached the end of the Spring term, and what a strange one it has been, but thank you to all those children who have sent me emails with your fantastic learning and made it to the wall of amazingness! I am sad that I didn't get to spend as much time with my wonderful class as we normally would when we get to the end of the Spring term but your amazing work is putting a smile on my face. I will not be adding any more learning over the Easter break, but there is lots on the page and in your workbooks to keep you busy! I do encourage you to do lots of reading, practise your times tables and your spellings, remember to use the year 3 spelling words below in the spelling section.
I will be setting a battle during the next two weeks and would love for everyone to go on and contribute to your team!
This starts at 12 o'clock today and finishes at 6 o'clock on the 19th April. Get battling!
WALL OF AMAZINGNESS!
Thank you Daniel – looks like you have been up to some FAB learning at home! Keep up the amazing work!
Thank you Josh for your second update on your home learning so far- very impressed! Some super writing, maths and spelling! I am very impressed! Keep up the amazing work! Check it out below!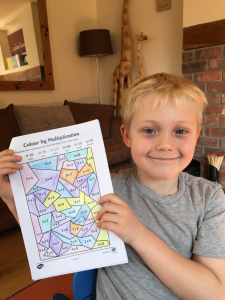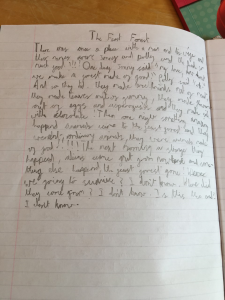 Also thank you for this picture from Lottie who celebrated her birthday on the 2nd April! I hope you had a lovely day!
Thank you Olivia for your amazing home learning so far; it's fabulous to see you keeping so busy and I am very proud, keep it up!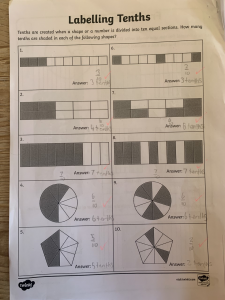 Special mention to the super Cerys who is incredibly busy at home being a fantastic writer and using Pobble 365 to inspire her to describe a very spooky looking house! I am very proud! You're great!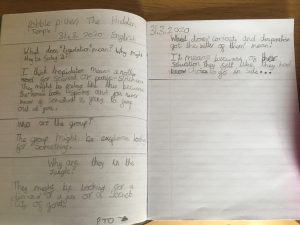 But not only that, Cerys has been doing some fabulous history learning all about Edward I! Cerys you're a great historian! As well as some amazing, science, maths and music learning! 
Keep it up! Check out her amazing work below.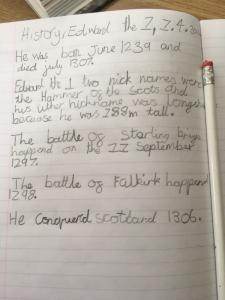 Check out the experiment here
Remember to send me an email or a photo with what you have been up to during this time away from school, I would love to hear all about it!
Maths
Here are some maths activities that can be completed during the week, click here to see maths videos to support your learning and to see the answers to each document:
UPDATED:
Monday
Tuesday
Wednesday
Fractions of a set of objects (2)
Thursday
Fractions of a set of objects (3)
Friday
Use strips of paper to show how different fractions can be equivalent.
Writing
To support your writing, use this amazing website Pobble365. There are amazing daily photos that can be used to write imaginative stories, sentences and poems. Check it out here: http://www.pobble365.com/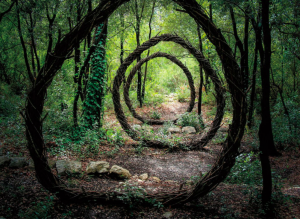 Click here to see some writing activities you can do for this picture.
Have fun being creative and imaginative with words!
UPDATE
As we have been focusing on the book The Tin Forest, I thought it would be a great opportunity for you to write your own story inspired by the Tin Forest! Click here to watch the video of the story as a recap.
It doesn't have to be a forest that grows, and is formed, it could be a…
Or the forest could be made out of something other than tin, it could be made out of…
food
sweets and treats
fruit
I would love to read your stories about this exciting place or forest that is created from a land of nothingness that is filled with all the things that nobody wanted.
Remember that you could also make your own Tin Forest at home out of different materials, I would love to see these creations!
Science
In science we are learning about parts of a plant, click here for a worksheet where you need to label the function of each part of a plant correctly.
History
In History we are coming to the end of our topic- The Ancient Greeks! Below are some activities that you can complete. Create your own terrifying Greek monster- what will it be called? Learn about Pandora's Box and answer questions in the comprehension and create fact files about some of the Greek Gods and Goddesses. Click the links below.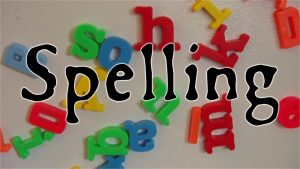 Spelling
Practise your spelling at home in different ways. Can you make a word in different ways? Can you use paint? Can you use playdoh?
Here are recommended words to practise
Check out these fun ways to practise your spellings!
Reading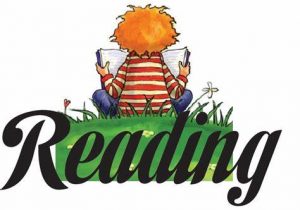 Remember to keep up with your reading, whether that is books from school or your own books at home!
Below is a website with some suggestions of things you can do at home to make reading more exciting!
https://www.momjunction.com/articles/fun-reading-activities-for-kids_00381512/
Why not try some reading bingo too?
Here are some handy tips if you're struggling with different words:
Here are some BIG PROJECT ideas you can create at home:
Create a volcano- Here is some great facts all about volcanoes!
Create a volcano on Minecraft
Create your own Greek vase
Research the Romans and their famous buildings
Create a Greek theatre mask- Here is a good website with tips
Design your own Tin Forest
Create your own world like the Tin Forest: What would it be made out of?
Research Roman Gods and Goddesses
Research Greek Gods and Goddesses- Here is a great website with lots of information
Research Roman Emperors- can you create a fact file or a power point?
Internet safety
When children are completing work at home on a laptop remind them to be internet safe! Here are some top tips!
Computing
Here are some activities and apps that you can use at home for free!  Check them out below!
Times tables and number facts
Practise your times tables on TTRS. Check out the website regularly to see if there is a battle going on. Rock on! Check out the link here:
Try this fun website to help learn your times tables!
There is also some Big Maths Beat That's that you can do to practice your quick fire recall! Take a look at them here!
Click here to have the music to help you complete your Big Maths Beat That!
PE
Be a SUPER mover!
Here is a great way to stay active while you are at home! The BBC and Premier League have teamed up to get children moving and activate their minds through a programme called Supermovers- Check it out here! 
Click here to go to the Primary Premier League Stars website and see their great English and Maths resources!
Here are some more apps that you can use at home to get you moving!
Greek Day- 19/3/2020
We had a lovely day on Thursday for our Greek Day! The children made Greek Olympic wreathes, wrote their name in Greek and did some Greek dancing!