Physical Education
Welcome to the new dedicated page about all the sport activities taking place at the Richard Clarke First School.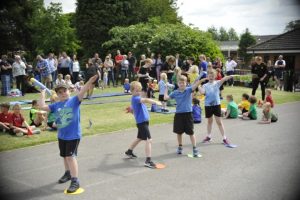 P.E. at our school
Our pupils have two hours of timetabled P.E. every week. Key Stage One pupils have their programmes delivered on Monday and Tuesday afternoons whilst Key Stage Two pupils have theirs on Wednesday and Thursday afternoons. Swimming is a major part of our P.E. curriculum and this is provided at Abbots Bromley School on Thursday mornings in Autumn 1, Spring 1 and Summer 2. For a full overview of our P.E. curriculum for 2018-19 please see the link below.
Sports Premium Spend
One of the key performance indicators for the sports premium spend this year is to engage all pupils in regular physical activity. The Chief Medical Officer guidelines recommend that primary school children undertake at least 30mins of physical activity a day in school. With this in mind we have designed and installed a fitness trail on the main playground to inspire active break/lunch times. In addition we have developed physical science, maths and literacy areas in the school courtyard for our staff to use during lesson time and for our sports leaders/ambassadors to use at active lunch breaks with Mrs Care. By investing in these projects we will not only see increased physical activity in our pupils but it will also provide opportunities to enhance both numeracy & literacy standards as a tool for whole school improvement.
School Games
The School Games is a programme designed to keep competitive sport at the heart of schools and provide more young people with the opportunity to compete and achieve their personal best.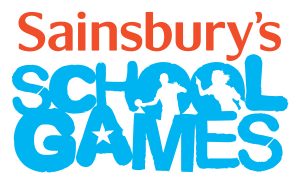 The School Games, which is funded by Sport England and delivered by the Youth Sport Trust, is a government led programme designed to deliver competitive school sport to all young people.
To find out more visit the School Games website.
Recent Events and Inter-School Competitions
Why not visit our News & Events page to find out what we have been up to recently, click the events link here.
P.E. Curriculum Intra-School House Competition Results.
Results for Autumn 2
Year Three Train to be an Astronaut:- First place with 60 points, Baggot. Second place with 35 points, Drabble. Joint third place with 20 points each, Clarke & Paget.
Year 4 Train to be an Astronaut:- First place with 55 points Paget. Second place, Drabble with 40 points. Next came Baggot with 25 point and in fourth place with 10 points, Clarke.
House competition standings at the end of the Autumn term:-
Paget 125 points
Drabble 120 points
Baggot 120 Points
Clarke 95 points
Results for Autumn 1
Year One Target Games:- In first place Drabble with 8pts. Second place Paget with 7pts. Third place was Baggot with 6pts and in fourth place with 5pts Clarke. A very close competition indeed.
Year Two Target Games:- In first place Clarke with 42pts. Second place came Drabble with 40pts. Next came Paget with 39pts and in fourth place came Baggot with 35pts. Again a very close and exciting competition.
Year Three Ball Skills:- In first place Drabble with 47pts. Second place came Paget with 40pts. Next came Drabble with 30pts and in fourth place came Clarke with 22pts.
Year Four ball Skills:- In first place came Paget with 55pts. Second place came Drabble with 50pts, then third place with 45pts was Baggot and that left fourth place to Clarke who got 35pts.