Eco Schools
Welcome to the Eco Schools page!
Hi
I'm Mrs Read and I am the eco coordinator at the Richard Clarke First School.
We have 2 Eco Councillors chosen from each class, chosen for their passion and understanding of environmental issues. Each class held their own democratic style vote to choose their councillors.
They are
Reception: Toby and Elliot
Year 1: Kate and Ashton
Year 2: Emily and Bertie B
Year 3: Lucy and George L
Year 4: Cerys and Harry
We currently have our silver award and are working towards the green flag which we hope to have by the end of academic year 2021-2022
Here are some places that environmental education appears in the curriculum
As an eco team, we are required to take on projects that cover 3 topics of the Eco School Green Flag award. https://www.eco-schools.org.uk/primary-pathway/ten-topics/ to find out more. 
We have decided to work on LITTER, WASTE and GLOBAL CITIZENSHIP for our Green Flag award. We are also working on HEALTHY LIVING as a school because it is important to us!
The topics complement our school drivers of Diversity, Wellbeing, Environment and Possibilities and these are intertwined through everything we do at the Richard Clarke First School.
Take a look below at the activities we are doing in each topic.
Litter
Introducing The Richard Clarke Litter Picking Club! Each weekend, a different child from each class will be taking home the class litter picker and letting us know how much litter they have managed to collect and remove from our beautiful surroundings.  I will be reporting weekly on the amount of litter collected by each class to see which class will win the coveted 'Litter Heroes' award at the end of term!
Our Autumn 2 Litter Heroes are Year 3!
Special mention goes to George in Year 3 who has been collecting litter since the start of lockdown in March for his Green Blue Peter badge and has so far collected 49.3kg of litter from within 2km of his home!
Take a look at https://www.bbc.co.uk/cbbc/findoutmore/blue-peter-apply-for-a-green-badge for more information.
But we all deserve recognition, since the start of the year, we have cleared 156kg of litter from our local area which is phenomenal!  Thank-you to all those who have taken part and helped the environment.
Take a look at our litter picking wall of fame.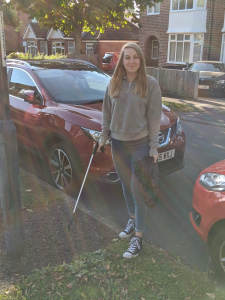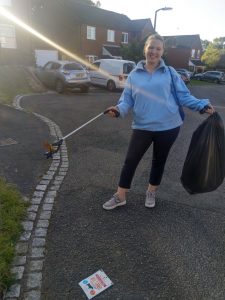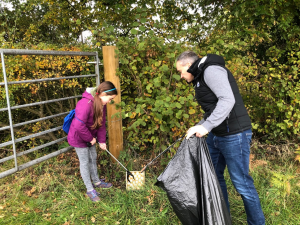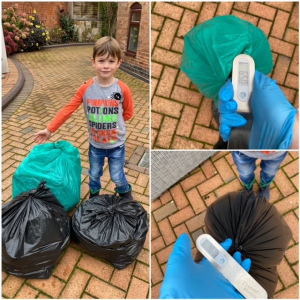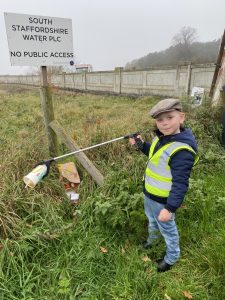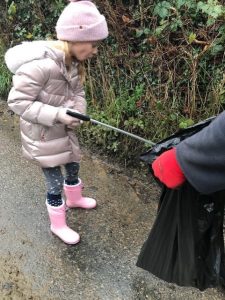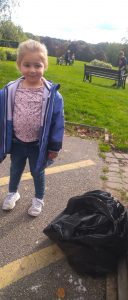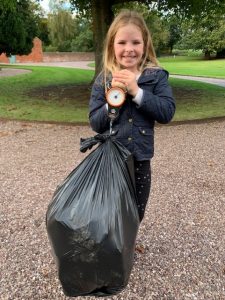 Waste
In the foyer, we have a Terracycle recycling collection. We collect crisp packets and send them off to Terracycle who recycle them.
Please keep bringing in your empty crisp packets to recycle.  So far, we have recycled 1770 crisp packets!
Once collected, the aggregated nuts, popcorn, crisps and pretzels packets are sorted, shredded and washed. The material is then densified into hard-granulated plastic granules. The granules are then extruded so they can be incorporated into the production of different plastic products such as fence posts and benches.
Here is what you can recycle at school with Terracycle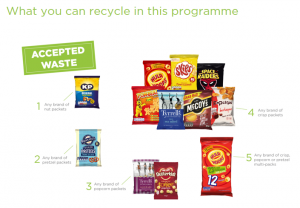 Global Citizenship
In school, we have been learning about harvest. We had discussions in our classes about Rugeley Food Bank where we sent our harvest donations and collected donations for them.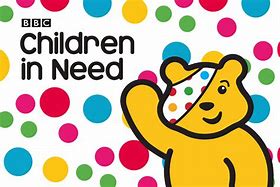 For this year's Children in Need, we wore non-uniform and coloured in Pudsey bear pictures to raise money. Not only did we look amazing, we also raised £234!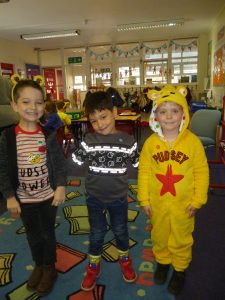 Poppy Appeal
With the Covid restrictions this year, we weren't able to sell poppies as we usually do in school. Regardless of this, we still managed to raise a fantastic £91.38 for the Royal British Legion.
Healthy Living
We kickstarted the 20-21 year with Healthy Eating week
During healthy eating week, we took on the BNF's challenges. At home, we were challenged to eat a rainbow! These are some of the foods that we tried:
Red: Tomato, pepper, strawberries, apples, cherries
Orange: Pepper, satsumas, carrots, peaches, butternut squash,
Yellow: Bananas, sweetcorn, lemon,
Green: Broccoli. spinach, peas, grapes, cucumber, brussel sprouts, kale
Blue: Blueberries,
Purple: Aubergine, blackberries, prunes,
Pink: Watermelon, raspberries
White: Potato, onion, cauliflower, parsnips
We also took part in physical activity together with our families. Across the school, we went on bike rides and hikes; we played golf, tennis, football and hockey and flew kites, we have been busy!
These are some comments from the children about what we learnt in school.
"Drink milk as calcium is great for your bones"
"Do exercise every day"
"Drink lots of water"
"Be kind to yourself"