Year 4
Wednesday, 8th April 2020: Holiday Hello!
---
HOME LEARNING FOR YEAR FOUR
This page will be updated frequently with new things to learn, find out and enjoy! There are also lots of activities for you to complete in your home learning packs, which were given out on March 19th.
ENGLISH (with a bit of ART)
Fantasy Worlds often connect to our world using a portal, or special entrance. Can you think of the different ways the Pevensie children get into and also leave Narnia?
The Wardrobe is used in The Lion, The Witch and the Wardrobe: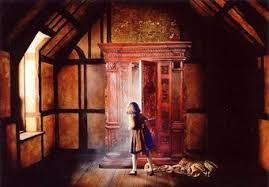 The Underground takes them into a large cave at the start of Prince Caspian:
Aslan creates a portal in this tree at the end of Prince Caspian:
There are others! In The Voyage of the Dawn Treader, the children enter through a painting on the wall. To return, they walk back through a giant wall of water.
I would like you to come up with your own portal into Narnia – and another for leaving Narnia! Describe where it is located, how you can get to it and what it looks like. What happens when you are travelling to Narnia? Draw a picture of it. Please include some really good description in your writing.
PE
Flat Catching Challenge – how many can you do in 1 minute? This is a great activity to develop catching skills! Try it at the three different distances and let me know how many you can do!
Reminder: PE with Joe – check out this live PE lesson every morning at 9.00am on YouTube.
SCIENCE
TBQ: Can I name the different types of human teeth and explain what they do?
Today I have some science for you! I would like you to watch this video! It's another great video from our friends – you'll recognise them! Once you have watched the video twice, then there are two worksheets for you to complete. If you do not have a printer at home, then draw your own set of teeth *and* write a short explanation of the different types of teeth and what they do.
On the teeth labelling worksheet, you need to complete the first page. Label the teeth correctly using the scientific names that you have learned. Perhaps you could colour each different type of tooth a different way? For example: molars could be green, canines could be red etc. Check your answers are correct using the answer sheets.
On the teeth crossword sheet, you need to complete the second page (the first page has some science investigation ideas a bit like what we did in class with our egg experiment). On the crossword, some of the answers are easy… some are medium (you might need to remember some of the things we learned about the digestive system) but some are harder… and you may need to do some extra research!
When you have completed both, you can stick this in your book.
ART
How to draw a lion: Step by Step
Aslan is the great lion and founder of Narnia. Do you remember we started to draw a lion in class using a step-by-step guide? Well… click on the link and that is the exact same video! You can restart your lion drawing on some plain paper. You might need an adult to help you at the start – do you remember we had to draw and measure some lines before we started? When you are ready, make sure you have a nice, sharp pencil (a sketching pencil would be even better but it doesn't matter if you use a normal one) – and off you go! I would love to see some pictures of your finished drawings so please send them in to my email if you like. You will need to keep stopping and pausing the video and repeating parts. You will also want to do it in 2 parts – this drawing would have taken 2 full Friday afternoon lessons so please don't rush! Have fun everyone!
HISTORY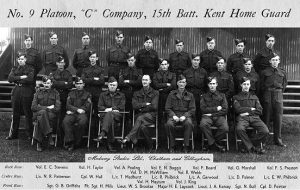 TBQ: Can I create a fact-file about the Home Guard in World War 2?
Today, I would like you to learn about The Home Guard (click here to find out!)
The Home Guard was part of the Civil Defence, which we learned a little bit about when we did our propaganda posters. Just like at the moment, lots of people were volunteering to help out in any way that they could.
Using the information in the link above, and your own research, I would like you to make a fact file over 2 pages in your Extended Learning Book. OR – you could use a whole sheet of A4 paper and then stick this into your book.
We have done lots of fact files in class, so you should have a good idea of what sort of things to do. Tell the reader what the Home Guard is, why it was created, how you could get involved. Draw boxes, fill them with writing and put your own drawings around too.
Ask your family about Dad's Army. That was a famous TV show all about the Home Guard!
FRENCH

Ed says 'Salut' to everyone! He's currently relaxing at his home with his friend Snorri.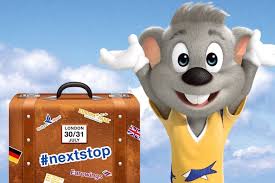 You should receive a password to Linguascope on 31st March. If you don't receive a password, please email me (assistantheadteacher@richardclarke.staffs.sch.uk) for a log-on. We use Linguascope in French lessons in schools so this should be familiar for the children in my class.
After you have logged in, please click the French flag in the beginner box. Then, from the menu choose 'Moi et ma famille' (me and my family). I would like you to then click on 'Mes animaux' – which is a learning topic all about pets! Click on 'presentation' to learn (and hear) the new words. Make sure you repeat them carefully. There are then lots of different games you can play (Jeu de Memoire is the memory game – but there are loads of others too). If you click on 'Imprime une fiche' – a worksheet will open. These are just like the ones we sometimes use in class! You can print them out and have a go at the activities.
We would have been learning about pets/animals in class this week anyway, so it's perfect timing. Try to avoid doing too many different topics though, as I will choose different ones for you to do next week. However, if you want to practise some of the topics we have done already in Y4 then try clicking:
1 Moi et ma famille / Ou j'habite (saying where we live)
2 Moi et ma famille / Les membres de la famille (family members)
3 La vie au quotidien / Dans ma trousse (items in a pencil case)
4 Les Loisirs  / Sports de l'interieur (indoor sports)
5 Les Loisirs / Sports de l'exterieur (outdoor sports)
R.E.
Mrs. Hanson now has her own page! Check it out for some R.E. learning and more! by clicking here!
MATHS
Every day, there is a new White Rose Maths Year 4 mini lesson. They are just like the types of things we would have been doing in class. Do your best – but remember, if things are too tricky, just do what you can! If you have not got a printer at home, you can still watch the video(s) and have a go at some of the questions.
Don't forget, you can access Times Tables Rock Stars using the app or a web browser! There will be battles set up regularly and you can play along at home! Can you beat the 6-second Soundcheck target time? Click the TTRS icon below to go straight to their homepage!
On top of that, we not try IXL? There's loads of quick-fire maths questions that you can do at home. Click the link and choose a topic! Click the IXL logo to be taken straight to the Year 4 page!
READING
All children in Year 4 have been given two reading books. One is from our reading scheme and is tailored specifically to their reading age and/or ability. We have also visited the school library and have been able to select a reading book to borrow. This may be a fiction or non fiction book. They should make sure they are reading for around 15 minutes a day! There are some great ideas for reading activities which can be found here!
SPELLING LINK
Here is the Year 3 & 4 Word List Grid – you can use this to practise some key spellings while we're away!
TOPIC BASED ACTIVITIES
Suggestions for topic/project based home learning are:
If you have any further questions, please do get in touch. I will do my best to respond to emails within 48 hours (if not sooner) during term time weekdays (9-3.30). During this Easter holidays (3-20th April), I will occasionally check emails but this will be less frequent.
My email address is: assistantheadteacher@richardclarke.staffs.sch.uk
See you soon, everyone!
Mr H